 Christmas Opening Times and Deliveries
Order by 18/12 for a guaranteed delivery before Christmas! Click for more information.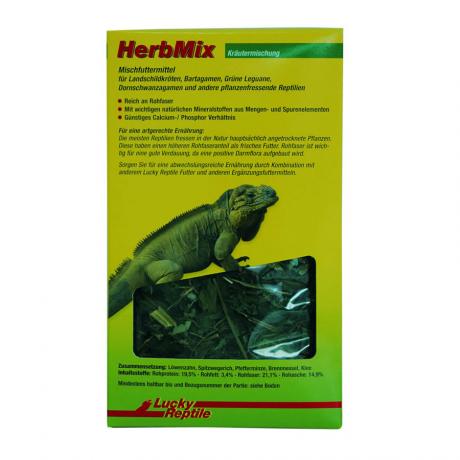 Lucky Reptile Herb Mix
Natural dried diet
Dried herb mix, high in crude fibres and suited to a wide range of herbivorous reptiles.
Form part of a natural diet
Higher amount of crude fibres
Herb Mix consists of dried dandelion, clover, ribwort, nettle and peppermint. Dried herbs belong to the natural diet of most herbivorous reptiles and acceptance as food is therefore no problem. In addition, the dried herbs have a higher amount of crude fibres than fresh food which is beneficial for the digestion. Veterinarians recommend that the amount of crude fibres should be at least 15% which cannot be accomplished with fresh greens only. Include Herb Mix in your diet to satisfy the reptile's needs. Excellent for tortoises, bearded dragons, iguanas, uromastyx and other plant eaters.