Ordering livestock
Thank you for considering buying an animal from Exotic Pets UK. Our animals and after sale advice from our knowledgeable team are second to none, and you will be supported throughout the sale process to ensure you are given all of the support and information you need to care for your new exotic pet.
This page covers questions relating to how animal deliveries work, how we pack our animals and if transporting them through a courier is safe. However, if you have any questions at all, please feel free to contact our friendly team who will be happy to help.
Is it legal to buy animals online?
We are a fully licensed pet shop with North East Derbyshire District Council, reference number: 19/03738/ANIMAL. All retailers must have a licence to sell any vertebrates from a shop or online.
The biggest reassurance we can offer when buying animals online from ourselves, is that we use a dedicated DEFRA registered animal courier to deliver your reptiles and amphibians directly to you.
At Exotic Pets UK we spend hours researching and improving the way we keep our own animals on site. We attend regular training courses to evolve our own animal husbandry techniques and to gain further product knowledge. We continually push the boundaries to provide quality care information to all customers and to help them improve their own animal care.
As an animal keeper, please be aware that you are responsible for ensuring that the welfare needs of any animal you purchase from Exotic Pets UK are met.
I've never kept an exotic pet before
Our friendly and knowledgeable team is here to help you get started in the wonderful world of exotic pets! We remain committed to offering comprehensive advice and care information (in a way that is easy to digest for complete beginners) on all the pets we sell and are happy to make recommendations based on your experience and abilities. We will guide you through every aspect of keeping your chosen species, both before and after sale care is our speciality.
I've been keeping exotic pets for years
So have we! As a team we have over 100 years of collective experience working with, keeping and breeding reptiles; and an ongoing knowledge of both existing and new products. We follow the leading researchers to ensure we evolve our practices in line with the latest research and encourage our customers to do the same.
We understand our checks process may be tedious for experienced keepers, but animal welfare has and always will be our number one priority. These checks often highlight outdated practices which can be improved upon. We never intend to cause offence, but we will make suggestions based on the latest research and products; helping improve our customers herpetological husbandry going forward in this ever evolving hobby.
I've made my decision, what next?
Reserving my animal
All reptiles and amphibians shown on our website are in stock and ready to leave our care.
Orders can easily be placed online and over the phone once you have registered an account.
When you have chosen your new pet, please click on the red 'Reserve' button. Other equipment and accessories can be added to the basket before continuing to the checkout where the total including delivery fees will be calculated. Upon completing the checkout, the animal will be reserved for 7 days, pending our Pre-Sale checks and then payment being taken. More than one person can reserve an animal, and the first to complete the checks and make payment will take priority.
All of the relevant information related to the individual animal is displayed in red next to their thumbnail photo. Those displaying a red 'In Store Now' badge, are also on display in our Dronfield Store. Most are able to be either delivered by the reptile courier or can be collected in store if you are local to us.
Payment
Before any animal order can be paid for and booked in with our courier (or collected in store), we need to be satisfied that the housing and husbandry that you are going to provide is suitable for the species you're looking to keep. This is our legal and moral obligation to the animals we breed and care for. Once this is complete, we will call you at your convenience to take payment over the phone. Once the checks are completed, we will call you at your convenience to make the payment over the phone.
Pre-Sale checks
Our first contact is usually by email and we will ask you a series of basic questions. You must respond to this email within 7 days, if you require longer to prepare please call us to let us know; we are happy to be flexible if we are informed - otherwise your order will be cancelled and the animal will be placed back on sale.
Products purchased from ourselves will be on record and usually make the whole Pre-Sale check process easier. We are always happy to put together full setups for all species we sell to ensure you have the right equipment for the animal you are wishing to keep.
During this process if we believe a customer is not willing to take on reasonable suggestions, lying to us, and/or failing to provide evidence of their setup, the order will be cancelled and the animal placed back on sale.
If we are happy with all information provided to us we will contact you by telephone to take payment for your order and look to get your order booked in with our reptile courier on the next available date. Our cut off each week is Friday at 12pm for delivery on Thursday the following week. If the courier is particularly busy, it will be placed onto the next available slot.
This is an example of the questions we will email to you:
If you have purchased a complete setup from us, we only need you to answer the last two in the following list as we know the equipment will be correct.

If you have ordered more than one animal we will need this completing for each individual animal you are housing separately.
Please attach photos of the housing and all heating/lighting equipment being used. (We reverse image search all photos)What size is the enclosure you have for the animal/s?

What size is the enclosure you have for the animal/s?

Do you have new UVB lighting? (State what percentage/zone and if this is a compact or T8/T5 or mercury vapour bulb)

How are you heating the enclosure? (Bulbs, heat mat or ceramics)

Your heat source must be connected to a thermostat (Let us know which one - mat stat/dimmer/pulse) This is a mandatory Exotic Pets sales requirement for ALL heat sources- for the safety of the animal and yourself.

Do you have a thermometer to take temperature readings? (Is this analogue, digital or a temp gun)

What is your basking spot temperature reading?

How are you providing heat at night? (Additional heating, is the room heated - if so, give temperatures)

What substrate are you using on the floor of your enclosure?

Do you have Calcium/Vitamins for your reptile? Please state which (This isn't required for snakes)

Please confirm that you are over 18 years of age.

Please confirm your address with the best contact number to pass onto our courier
What if I have bought my equipment elsewhere?
We will need to see photographic evidence of the enclosure you have set up for the animal you are wishing to purchase. If we feel the equipment you are using is unsuitable, we will give an explanation why and work with you to find a solution. We will provide you with links to suitable products, giving you the option of purchasing the correct goods and combining with your existing order, or if necessary cancelling your animal order until you have the correct equipment in place.
Can I order more than one animal?
Yes absolutely! Additional animals won't incur extra delivery costs. If orders are placed separately, please contact us so we can combine the delivery fee for you.
Can I specify the sex of my new exotic pet?
Where possible we advertise the animals age and sex. If you need a specific sexed pet, then please contact us and request this in your order notes. We will try our best to accommodate requests, but it may not be possible for several reasons; such as the age of the pet, the size or the species not being sexually dimorphic.
Can you deliver supplies and foods at the same time as my animals?
Yes, we have pre-existing arrangements with our couriers to carry and deliver smaller boxes of goods and livefood along with your animal at no extra cost - with the exception of larger enclosures and frozen goods as these will need to be sent via separate specialist couriers. If you would like to add any additional items to an existing order, please contact us and we will help you do this.
How do reptile courier deliveries work?
Our reptile courier collects from us every Wednesday for delivery on Thursday each week. This is an overnight door to door service throughout the UK via a specialist DEFRA registered animal courier.
It is essential that you are available for the duration of the day when receiving livestock deliveries from us. Deliveries can be anywhere between the hours of 6am-9pm. We have no direct control over the couriers route and/or timings of delivery. It is your responsibility to ensure someone is available at your address to receive your livestock delivery throughout the day.
Once your order leaves us you will receive an email notification from us, the driver will then be the next person to make contact with you. This may be to advise you of an early delivery on Thursday or usually to give you a two hour time slot of when they are due to deliver. It is your responsibility to ensure you answer all calls and acknowledge the driver when they make contact.
Some addresses can be difficult to find and the driver may contact you for further guidance. Failing to answer and assist the driver may force them into moving onto the next delivery slot and leave your area. If this happens and they cannot return to you the same working day, the driver may be forced into returning the animal to us. In this situation we could also incur a re-delivery fee back to ourselves, sometimes this would mean the courier has to carry a single animal from their base all the way back to us, which can be over and above the standard outgoing reptile courier delivery fee. If this happens, we will have to charge you for both the outgoing and incoming courier cost and any potential re-delivery fees.
Although these circumstances are extremely rare, it is important that all customers understand the importance of liaising with the driver.
Will the animal be safe in transport?
Exotic Pets UK has been running for over a decade and we take all animal transportation very seriously. As a business, we liaise continually with our specialist animal courier to ensure that all animals are delivered within the shortest journey time possible.
We pride ourselves on the quality of the animals we supply, many of which are born and bred right here at Exotic Pets. Most importantly we guarantee that all animals will be fit to travel. If for any reason, we had doubt or indication that it is not 100% healthy, we would contact you and remove the animal immediately from sale.
How your order is packed
Any reptiles and amphibians purchased through Exotic Pets UK will be packed into suitable containers or bags, we place them carefully into ventilated thick polystyrene boxes to minimise noise and absorb vibration.
Heat packs are provided when required so that all animals will remain warm on their journey to you, and all packaging is labelled and written on to remind our couriers what they are carrying.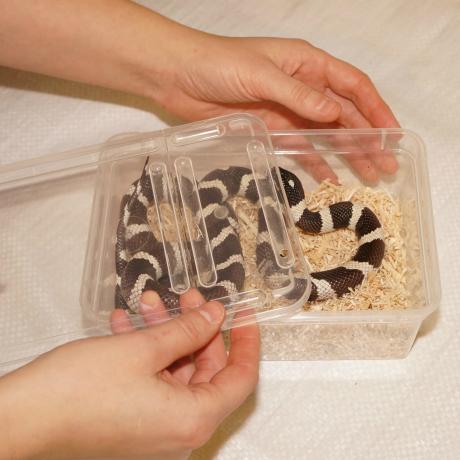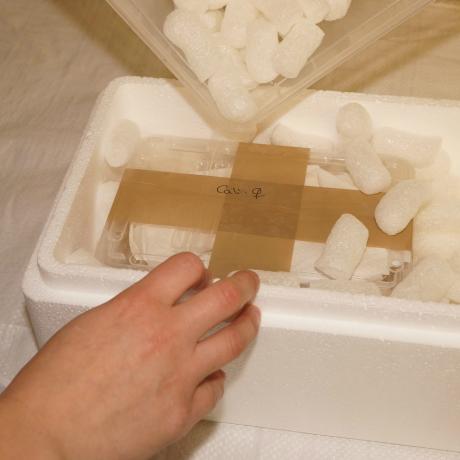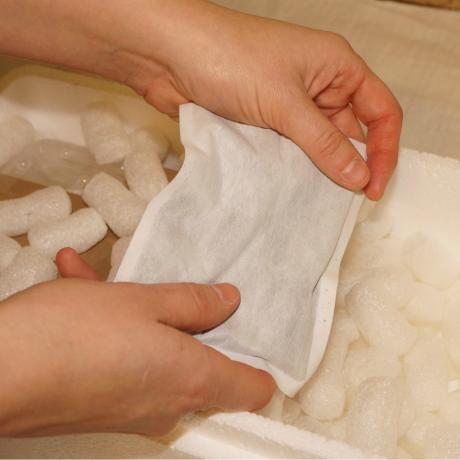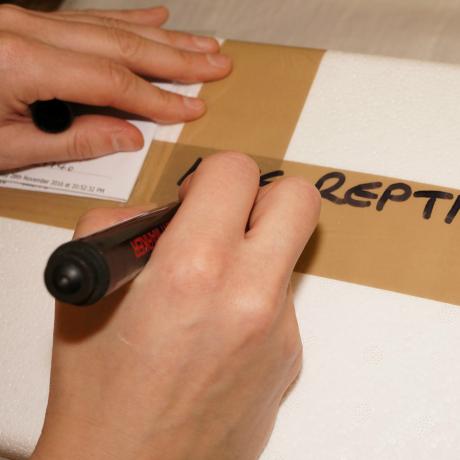 I have just received my new pet, what should I do next?
Once you receive your new pet, as excited as you will be to interact with them, we recommend that you place the animal in their new enclosure and leave them to settle in for at least 48 hours. It is inevitable that any animal being transported will feel a little stressed - we try to minimise this as best we can but moving into a new home, meeting new people, sounds and smells means it can understandably take some time to adjust. It can take a few days to a few weeks to get used to their new environment and feeding can often be hit and miss during this time. If the animal is reluctant to feed, we recommend not introducing handling (extra stress) until they are in a normal feeding routine.
If you own other reptiles, we always recommend quarantining any new pets (purchased from us or elsewhere) ideally for three months and treat them as part of your routine for internal/external parasites.
Although we do our best to treat all animals as a routine precaution, it is down to you as the new owner to carry out your own treatment. If you are unsure, please ask and we will advise which product is best for the species in question.
Any questions, please contact us, we are happy to help and advise.
What if I'm unhappy with my purchase?
We doubt you will be! We only sell flawless specimens with honest and accurate descriptions, and for further peace of mind - we will happily provide photos and further information before a purchase is made, we want you to be 100% happy before you order one of our animals.
In the unlikely event that you receive an order from us that you're unhappy with, please contact us immediately to discuss this. Your satisfaction is extremely important to us and we will do our best to make sure you are happy with our service.
Does your reptile courier deliver to Northern Ireland?
We have had to place this service on hold until further notice. This is due to changing animal transport legislation post Brexit. We apologise to all our customers for any inconvenience this may cause. We do hope to resume this service in the near future.
Invertebrate only orders
How do invert deliveries work?
We do not legally require Pre-Sale checks for invertebrates, but we do encourage you to share photos of your setups should you require any advice regarding setting up. We also implore you to thoroughly research the species and ensure your chosen pet is suitable for your experience levels. If you need any help, information or advice regarding choosing the perfect invertebrate, or advice regarding your setup please contact us and we will be happy to help.
We carefully pack your invertebrate in a suitable transport pot, with tissue paper to help absorb any vibrations. This is placed within a larger cardboard box with plenty of packaging materials to minimise movement and impact. Heat packs are provided when required so that inverts remain warm on their journey to you if outside temperatures are cool.
Orders containing invertebrates are usually shipped Monday to Thursday. Small parcels are sent via Royal Mail Special Delivery before 1pm and larger/heavier parcels will often be sent via courier on a Next Day service. The method in which these will be sent will be determined by what other items you have on your order and the combined weight.
If you require the parcel to arrive on a specific day, please contact us as soon as possible so we can work with you to accomodate this. Once the order has been dispatched, you will receive an email containing tracking information, and your parcel will be delivered the following day. This is information is also available if you login and view in 'My Account'.
What if my invert dies in transit?
On arrival, inverts may appear immobile if temperatures are low but will often soon become active when slowly warmed up again over the course of a few hours.
Thankfully DOA inverts are a rare occurrence. As sad and disappointing as it is, we require you to take photos of any DOAs as soon as you receive them and email these to us immediately. We will then review these and the tracking information to ascertain whether you are eligible for a replacement or refund.
As live inverts are classified as 'perishable' if the tracking information shows that the first delivery attempt was missed and the parcel was either redelivered or collected from your local depot you will not be eligible for a replacement or a refund as per our perishable goods clause.
Invert shipping in extreme weather
We know how excited you will be to receive your new pet, but their welfare comes first!
As you can appreciate, animals are our number one priority and we want to ensure that yours arrives as safely as possible, meaning that invertebrate shipping must be managed very carefully during the summer and winter months. Despite the secure packaging and heat packs that we use during transport during the winter, overnight frosts, and temperatures below 5°C can be just as detrimental to invertebrates as extreme heat during summertime heat waves.
Any orders containing invertebrates may be postponed for several days or weeks (if necessary) if temperatures suddenly rise/fall or there is a high risk of bad weather. We will notify you by email if any delays look likely and keep you updated as best we can - bearing in mind the unpredictability of good old UK weather!
Please order on the understanding that there may be unavoidable delays in shipping during some months.
---
Can't find what you're looking for? Please see our FAQs page