Delivery and Returns
UK Orders
The address and contact information you provide us when placing your order will be used for delvieries. We will not use or consider stored address information with third party payment providers (e.g. PayPal).
When placing your order, please ensure that all contact details provided (address, email, and phone numbers) are up to date and complete. This is especially important for perishable goods such as livefood, frozen food and live plants. Updating your contact information after the order has been processed and/or dispatched will not work.
When goods leave us, we will send out an email notification to inform you that your delivery is on its way. Depending on the service, you may also receive communication directly from our couriers, this is usually to give you a more accurate delivery window. Please check all your inboxes regularly to ensure that these emails do not accidentally end up in your junk folder. We have tested our email notification system over many years, and we know this system works very efficiently. Some email providers may automatically block domain addresses, it would be advisable to mark our email domain (@exotic-pets.co.uk) as a safe sender to be sure. You can do this easily when you receive your order confirmation after placing your order.
Shipping Charges
Shipping charges and delivery times vary depending on the type of product you are purchasing, the total weight, and in some cases, where you live.
Delivery Method
Shipping Charge
Coverage
Royal Mail Untracked
£3.79
Royal Mail Tracked
£4.99
Courier Delivery
£7.99
Pallet Delivery
£49.99
Frozen Delivery
£14.99
UK Mainland only.
Invertebrate Orders
£8.99
Reptile Courier
(England/Wales)
£54.99
All English and Welsh postcodes.
Reptile Courier
(Lower Scotland)
£59.99

All Scottish postcodes except:
AB, DD, HS, IV, KY, PH and ZE.

Reptile Courier
(Higher Scotland)
£64.99

Service unavailable for these postcodes:
KW, ZE, HS, IV20-IV28, IV40-IV99, PA20-PA49, PH30-PH50.

Reptile Courier
(Northern Ireland)
ON HOLD
Service has been suspended post Brexit.
*Our checkout will default to the correct delivery method and cost when you add items to your basket.
Can you ship internationally?
We do not offer shipping to any other international countries. This includes livestock, food, and supplies.
Pet food and supplies
Do you keep everything in stock?
Most of the products we sell online are kept On Site and picked straight from our warehouse. Any items purchased that are kept Off Site (e.g. bulk bags of livefood) will be ordered into stock and then dispatched to you at the first opportunity; along with the rest of your order.
When will you dispatch my order?
We aim to dispatch standard orders within two working days. If there is a delay (e.g. product is out of stock) we will contact you with the different options available. Orders containing Off Site items can take a little longer to be dispatched.
Specialist and perishable items going via courier (livefood, frozen, live plants) are shipped Monday-Thursday only.
Which couriers do you use?
We dispatch orders with Royal Mail, APC and Pallet-Track.
Will I get a tracking number?
Where appropriate, this information will be available for you to log in and view in My Account.
Can I specify a delivery day?
This can be arranged for invertebrate, frozen, and standard courier deliveries only (days of delivery are usually Tuesday-Friday). We cannot guarantee this service for items being dispatched via Royal Mail. Please add any special instructions to the order notes during the checkout process, we will try to accommodate all requests where possible.
Do you offer next day delivery?
We cannot always guarantee next day courier deliveries. If your order is urgent, please contact us before ordering and we will do our best to help.
Perishable goods
Livefood, frozen food and live plants are all perishable goods. Once orders have been placed for these types of items, it is particularly important you are available to receive them at the first delivery attempt. Failure to do so may result in the order being returned to a courier depot, or the order being left somewhere considered safe by the courier for an extended period. If this happens and your order contains frozen goods, there is a possibility that the goods will be spoiled when you unpack them. If a failed delivery happens because you were not in to receive the order, or you have re-organised a new and later delivery date with the courier, we as a company will not be held responsible for spoiled goods, nor will we offer replacement goods or a refund.
If an order is returned to us by the courier because the order was not called for, or you were not present for delivery, we will process it as follows. All perishable products contained in the order will be disposed of immediately. Any remaining pet supply products on your order we will contact you about and ask if you would like these re-delivered or refunded. You will then also have the option of re-ordering any spoiled goods that have been disposed of. In this situation, please note that you will be responsible for any additional products purchased or re-delivery charges occurred.
In the unlikely event of a courier delay (i.e. misrouted parcel), insects arriving dead, and/or frozen goods arriving spoiled, you must inform us immediately (within 1hr of receipt). Please take photographs of the inner/outer packaging, and video evidence of any spoiled goods (this is especially important with live insects and frozen goods). Do not throw these goods away without speaking to us first and/or before submitting any supporting evidence to us. This information will form part of your claim, failure to provide the requested information will make any claim null and void.
N.B. During the winter period, live insects can appear dead/dormant on arrival. Keep them at room temperature and usually within 1-2 hours they will all become lively and active again as normal. Very few insects will perish this way.
False claims will not to be tolerated and considered fraudulent, this will result in the immediate suspension of your online account.
If all the information provided shows clear evidence that ourselves or the courier was at fault, we will happily arrange replacement goods or a refund as soon as possible.
Special notes
Adverse weather conditions can cause shipping delays in some circumstances (e.g. hot weather and the shipping of frozen goods).
Bulky and large items may have to be sent via specialist couriers and may take longer to reach you (e.g. large glass tanks on pallets).
Courier deliveries to remote regions may not arrive the next working day (Usually the Scottish Highlands, offshore or Northern Ireland). The shipping of frozen goods may not be possible to some of these regions.
Reptile and amphibians
Placing your order
Orders for reptiles and amphibians can be placed online or over the phone, these orders will be subject to pre-delivery checks (see below) and approval before they are booked in with our reptile courier.
Pre-orders
Animals that have been pre-ordered will be ordered in from our supplier or breeder. Once they arrive with us, we will need to house, feed, water and monitor the animals health carefully before arranging a delivery date with you.
The time this takes can vary per species, but we will contact you to to complete our pre-delivery checks during this period and to arrange booking the animal in with the reptile courier when we are happy for it to leave us.
Pre-delivery checks
Before any animal order is released and booked in with our courier, we need to be satisfied that the housing and husbandry that you are going to provide is suitable for the species you're looking to keep. Our first contact is usually by email and we will ask you a series of questions. You must respond to this email as soon as possible. Alternatively, we may also contact you by phone. Often we will make recommendations concerning setups and/or request photographic evidence of the housing and equipment being used. N.B. Screenshots of products and Google images will not be accepted.
Products purchased from ourselves will be on record and usually make the whole pre-delivery check process simplier. We are always happy to put together full setups for all species we sell to ensure you have the right equipment for the animal you are wishing to keep.
We understand this process may be tedious for experienced keepers, but animal welfare has and always will be our number one priority. These checks are compuslory and ensure we are meeting all our legal obligations for licensing, and more importantly, helping improve our customers herpetological husbandry.
During this process if we believe a customer is not willing to take on reasonable suggestions, lying to us, and/or failing to provide evidence of their setup, the order will be cancelled and refunded.
If we are happy with all information provided to us we will look to get your order booked in with our reptile courier on the next available date. Our cut off each week is Monday 6pm for delivery on Thursday the same working week. If we cannot get the delivery on the same working week, it will be placed onto the following.
How do reptile courier deliveries work?
Our reptile courier collects from us every Wednesday for delivery on Thursday. This is an overnight door to door service throughout the UK via a specialist animal courier.
It is essential that you are available for the duration of the day when receiving livestock deliveries from us. Deliveries can be anywhere between the hours of 6am-8pm. We have no direct control over the drivers route and/or timings of delivery. It is your responsiblity to ensure someone is in at your address to receive your livestock delivery throughout the day.
Once your order leaves us you will recieve an email notification from us, the driver will then be the next person to make contact with you. This may be to advise you of an early delivery on the Thursday or usually an hour before your delivery to let you know they are on their way. It is your responsbility to ensure you answer all calls and acknowledge the driver when they make contact.
Some addresses can be difficult to find and the driver may contact you for further guidance. Failing to answer and assist the driver may force them into moving onto the next delivery slot and leaving your area. If this happens and they cannot return to you the same working day, the driver may be forced into returning the animal to us. In this situation we could also occur a re-delivery fee back to ourselves, sometimes this would mean the courier has to carry a single animal from their base all the way back to us, which can be over and above the standard outgoing reptile courier delivery fee. If this happens, we will have to charge you for both the outgoing and incoming courier cost and any potential re-delivery fees.
Although these circumstances are extremely rare, it is important that all customers understand the importance of liasing with the driver.
Can I order more than one animal?
Yes and additional animals won't occur extra delivery costs.
Can you deliver supplies and foods at the same time as my animals?
Yes, we have pre-exisiting arrangements with our couriers to carry and deliver anything you require. We are happy to put together a full setup for any species you are looking to keep.
What if I have bought my equipment elsewhere?
We will need to see photographic evidence of the enclosure you have setup for the animal you are wishing to purchase. If we feel the equipment you are using is unsuitable, we will give an explaination why and offer you the option of purchasing the correct goods from ourselves, or cancelling and refunding your order.
Will the animal be safe in transport?
Exotic Pets UK has been running for over a decade and we take all animal transportation very seriously. As a business, we liaise continually with our specialist animal couriers to ensure that all animals are delivered within the shortest journey time possible.
Most importantly we guarantee that all animals will be fit to travel. If for any reason, we had doubt, we would contact you and remove the animal immediately from sale.
How your order is packed
Any reptiles and amphibians purchased through Exotic Pets UK will be packed into suitable containers or bags, we place them carefully into thick polystyrene boxes.
Heat packs are provided when required so that all animals will remain warm on their journey to you, and all packaging is labelled and written on to remind our couriers what they are carrying.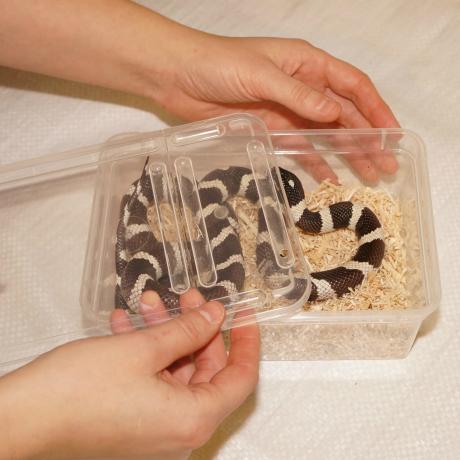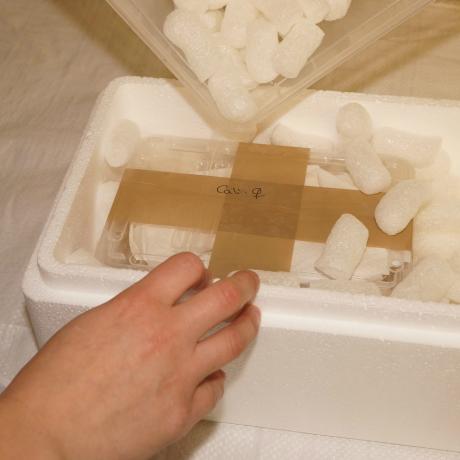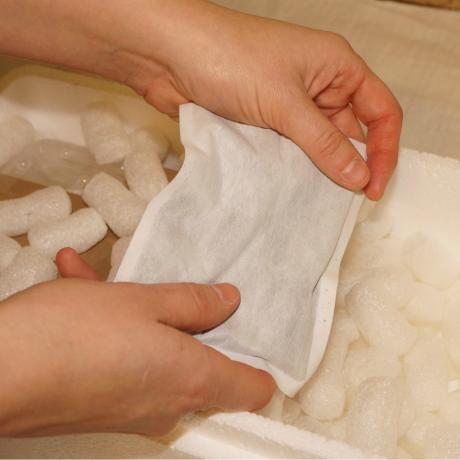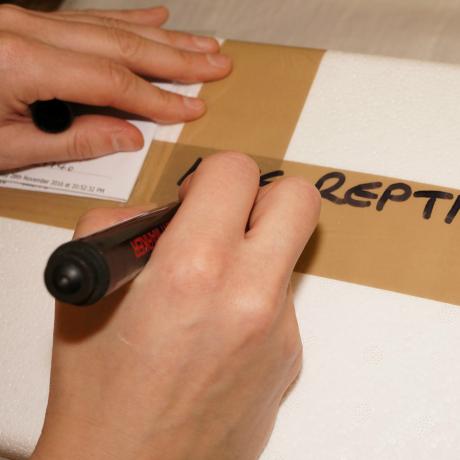 What if I'm unhappy with my purchase?
We only sell flawless specimens and will happily provide photos and further information before a purchase is made.
If you receive an order from us that you're unhappy with, please contact us immediately to discuss this, your satisfaction is important to us.
Does your reptile courier deliver to Northern Ireland?
We have had to place this service on hold until further notice. This is due to changing animal transport legislation post Brexit. We apologise to all our customers for any inconvience this may cause. We do hope to resume this service in the near future.
Invertebrates
How do invert deliveries work?
Orders containing invertebrates are usually shipped Monday to Thursday. Small parcels are sent via Royal Mail Special Delivery before 1pm and larger/heavier parcels will often be sent via APC Next Day. The method in which these will be sent will be determined by what other items you have on your order. Once the order has been dispatched, tracking information will be available for you to log in and view in My Account
Invert shipping in cold weather
Invertebrate shipping must be managed very carefully during the winter. Despite the secure packaging and heat packs that we use during transport, overnight frosts, and temperatures below 5°C can easily kill invertebrates. Any orders containing invertebrates may be postponed for several days or weeks (if necessary) if temperatures suddenly plummet or there is a high risk of bad weather.
Please order on the understanding that there may be unavoidable delays in shipping during the colder months of the year.
Returns Information
You may return any unwanted goods to us within 14-calendar days of receipt. Any goods returned, must be in a new, unused and saleable condition. You the customer are responsible for the cost of the return of these items and we would recommend, using a tracked and insured service to guarantee they arrive back with us safely.
If you receive an item damaged or faulty on arrival, please contact us immediately. We will then issue you with a pre-paid postage label, so we can recall the item for inspection and testing. In some circumstances, we may ask for a digital photograph to support your claim. This often speeds up processing any refunds or replacements.
We do not accept returns for flat-pack vivariums and cabinets that have been removed from the original packaging and/or that have been partially assembled. Perishable items such as live food, frozen food and live plants cannot be returned. If you've received livestock you're unhappy with, please contact us to discuss this in more depth.
Before returning any item, please contact us for a returns authorisation number.
FAO Returns Dept
Exotic Pet UK Ltd
Unit 20, Lucas Works
Sheffield Road
Dronfield
S18 2GG