Komodo Basic Hatchling Kit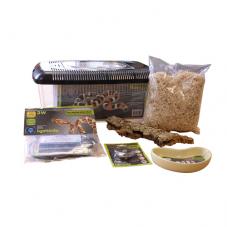 Click image for larger version
Complete snake starter kit
This is a budget snake kit from Komodo that has all the basic requirements a hatchling snake needs.
Hatchling snakes only require a small space; therefore the Komodo hatchling kit is ideal. Most small species such as Corn Snakes, Milk Snakes, Rat and King Snakes would benefit from this type of enclosure until they reach approximately one year or slightly older. Once the snake looks like it is starting to outgrow the enclosure a vivarium will need to be purchased. This kit contains the following equipment:
Plastic tank
Aspen bedding
Komodo water bowl
Cork Bark
Instructions
Other items you may wish to purchase
Do Your Research: Before you commit to buying any pet, please do your own independent research.
Customers who bought the items above also bought:
Link to this page:
http://www.exotic-pets.co.uk/komodo-basic-hatchling-kit.html