 Christmas Opening Times and Deliveries
Order by 18/12 for a guaranteed delivery before Christmas! Click for more information.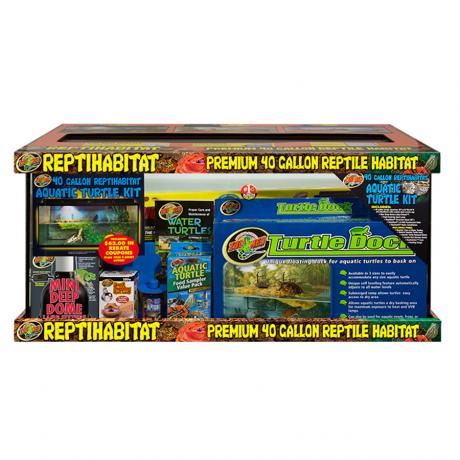 Zoo Med ReptiHabitat Aquatic Turtle Kit
Complete turtle kit
The Zoo Med ReptiHabitat Aquatic Turtle Kits are perfect as these include all the basics for keeping turtles fit and healthy.
Available in two sized starter kits, please see all below items. Please note some additional equipment may be required depending on the species you are looking to keep; call for further information.
20 gallon ReptiHabitat Aquatic Turtle Kit:
20 Gallon Terrarium (30"x12"x12") with sliding screen top.
High Range Reptile Thermometer
Turtle Clean 318 Submersible Filter
Turtle Dock - Small
Repti Tuff Splash proof Halogen Lamp - 75w
Mini Deep Dome Lamp Fixtures.
ReptiSun 5.0 UVB Fluorescent Bulb - 24"
ReptiSun Terrarium Hood - 24"
Care of Water Turtles Booklet
ReptiSafe Water Conditioner (4.25 oz)
Aquatic Turtle Food (Growth Formula 212g)
Red Shrimp (142g)
Turtle Bone
40 gallon ReptiHabitat Aquatic Turtle Kit:
40 gallon terrarium (36"x18"x18") with sliding screen top.
Turtle Dock - Large
Repti Basking Spot Lamp - 100w
Mini Deep Dome Lamp Fixture
ReptiSun 5.0 UVB Fluorescent Bulb - 17w
ReptiSun Terrarium Hood - 36"
Water Turtles Care Booklet
ReptiSafe Water Conditioner (4.25 oz)
Aquatic Turtle Food Sampler