 No animal courier deliveries available w/c 27th August!
Order now
to avoid disappointment.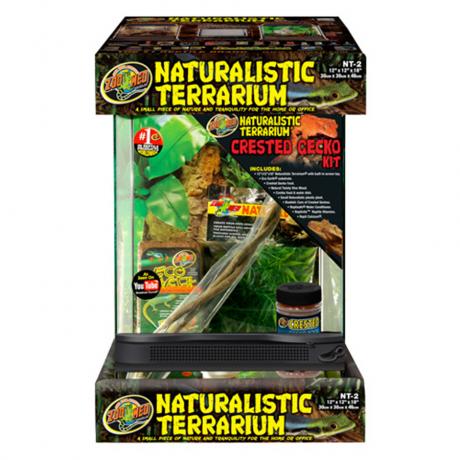 Zoo Med Naturalistic Terrarium Crested Gecko Kit
Affordable basic kit
If you're new to exotic pet keeping and wish to keep crested geckos for the first time then this kit provides some of the basic essentials required.
Front ventilation
Single glass door
Stainless steel mesh lid
Snap lock to prevent accidental escapees
What's included in the Zoo Med Naturalistic Terrarium Crested Gecko Kit?
This kit can be used to house young Crested Geckos or a single adult. Also suitable for other Rhacodactylus species.
Included in this kit;
Naturalistic Terrarium (12x12x18")
Built-in-screen top
Eco Earth Substrate
Natural Bush Plastic Plant (Madagascar Bamboo, Small)
Combo Repti Rock Food/Water Dish Small
Terrarium Accents Cork Branch (23")
Crested Gecko Food (Juvenile)
Reptivite and Repti Calcium Samples
Do your research
Before you commit to buying any pet, please do your own independent research.