 Last Posting Dates for Xmas Orders
Click for more information.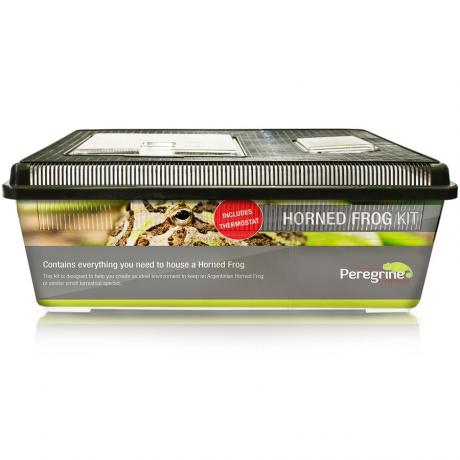 Peregrine Horned Frog Starter Kit
Ideal for terrestrial amphibians
Contains everything you need to house a horned frog. This kit is designed to help you create an ideal environment to keep an Argentinian Horned Frog or similar small terrestrial species.
Easy to setup
Includes all housing essentials
Ideal for novice keepers
Housing suitable for approximately a year
Contains a thermostat
Unfortunately, this item is temporarily out of stock. Click the button below to be notified when it is back in stock and available to purchase
Email me when this

page is updated
What's inside the Peregrine Horned Frog Kit?
Exo Terra Flat Faunarium, Large
Microclimate Ministat 100
ProRep Heat Mat
Lucky Reptile Thermometer Deluxe
ProRep Coco Bedding Fine, 5 litre
ProRep Live Moss 1.5 litre
ProRep Water Pool
Spray Bottle, 500ml
ZooMed Pacman Frog Food, 57g
ProRep Plastic Feeding Tongs
What species is this starter kit suitable for?
Cranwell's Horned Frog
Ornate Horned Frog
Fantasy Horned Frog
Do you recommend anything else?
A good quality calcium and vitamin supplement is essential. This is used for dusting live food prior to feeding to your horned frog.
Finally, with all amphibian species you must treat all tap water with a good quality dechlorinator before use.
Further advice on using these starter kits
If you have a cold house, plastic starter kits may not be suitable. In a cooler environment it can be difficult to reach and maintain the required temperatures for keeping frogs. If you feel this may be a problem, please contact us for advice on alternative housing.
Do your research
Before you commit to buying any pet, please do your own independent research.