 Christmas Opening Times and Deliveries
Order by 18/12 for a guaranteed delivery before Christmas! Click for more information.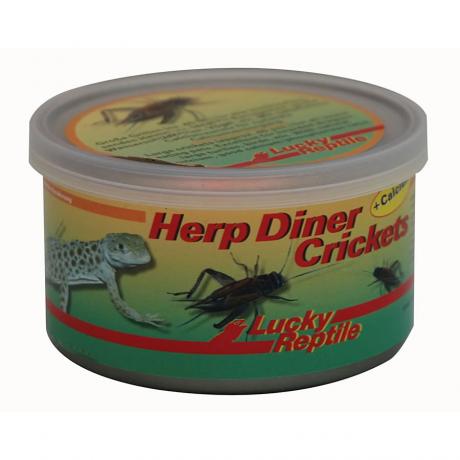 Lucky Reptile Herp Diner Crickets
Canned foods
Crickets locked in a can suitable for most insect eating lizards.
Nutritious food suitable for a variety of different species
Added calcium
Perfect for bearded dragons, birds and turtles
Herp Diner Crickets are canned crickets. The special thing about Lucky Reptile canned food is that cuttlefish bone powder as a source of calcium has been added to most of the range including Herp Diner Crickets. Consequently, these crickets have an optimal Calcium/Phosphorous ratio and are especially formulated to satisfy the reptile's need. The special cooking process ensures good acceptance by the animals and optimal nutritional value of the ingredients is preserved. A positive side effect of the can is that it makes feeding very easy: open can and spoon out some crickets, that's it! Herp Diner Crickets are readily accepted by most insect eating lizards (especially Bearded Dragons) and birds and provide the animals with beneficial calcium. They are also a great addition to the diet of turtles.