 Last Posting Dates for Xmas Orders
Click for more information.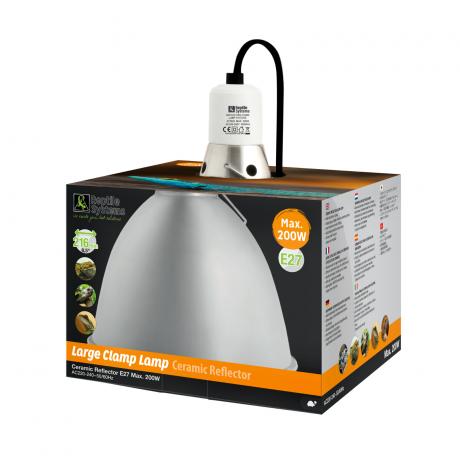 Reptile Systems Ceramic Reflector Clamp Lamp
Suitable for all bulbs
Multi-purpose reflector lamp holders that are perfect for use; inside wooden vivarium's, over tortoise tables, glass terrariums and screen cages.
Multi-directional clamp
Heavy gauge, highly reflective aluminium dome
Heat resistant ceramic fitting
Detachable protective mesh cover
In-line on/off switch
What are Reptile Systems Ceramic Reflector Clamp Lamps used for?
A ceramic lamp holder and spun reflector ideal for use with self-ballasted mercury vapour, basking spot lamps and ceramic heaters.
Additional Information
The small ceramic reflector will comfortably house all bulb types (up to 75W). Larger mercury vapour lamps must be housed in the large reflector lamp due to the bulb shape.
Do your research
Before you commit to buying any pet, please do your own independent research.