 Christmas Opening Times and Deliveries
Order by 18/12 for a guaranteed delivery before Christmas! Click for more information.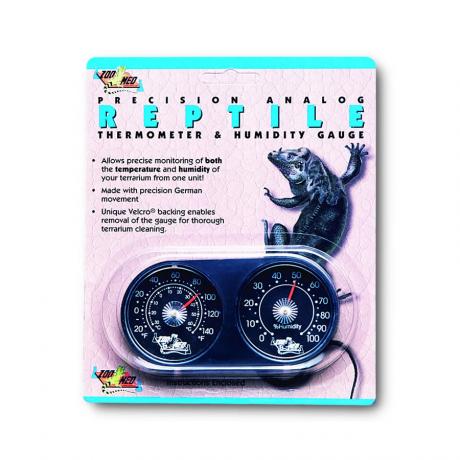 Zoo Med Analogue Dial
Current readings in your enclosure
Zoo Med has four products of thermometer and humidty dials to choose from.
Liquid Crystal Thermometer - for all types of enclosures. Ranges from 70° to 105° F (21° to 40° C) with easy to read crystal colouring.
Thermometer Dial - Extreme temperature range from 20° to 120° F (-6° to 49°C) for precise temperature monitoring.
Humidity Dial - Accurately reads the amount of water vapour saturation (humidity) in the air of your terrarium. Range is from 0 to 100%.
Dual Thermometer and Humidity Dial - Allows for the monitoring of temperature and humidity of your terrarium with one unit. Thermometer scale: 20° to 120°F (-6° to 49°C). Humidity Scale: 0 to 100%.