 Christmas Opening Times and Deliveries
Order by 18/12 for a guaranteed delivery before Christmas! Click for more information.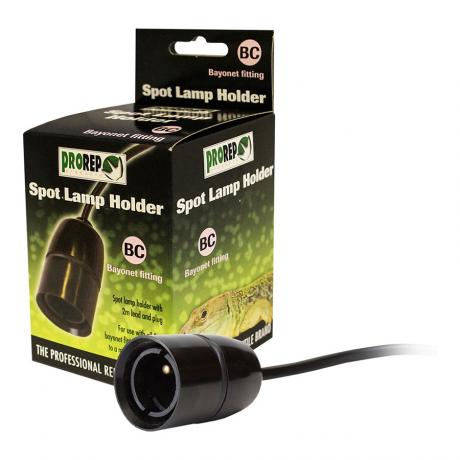 ProRep Spot Lamp Holder
For basking bulbs
ProRep spot lamp holder, an easy way to provide effective heating requirements within your vivarium.
Spot lamp holder with 2m lead and plug
Affordable and quality bulb holder
Available in both bayonet (BC) and screw (ES)
Maximum load of 100w
Best used with a universal bracket
What are ProRep Spot Lamp Holders used for?
Select an appropriate colour lamp to emphasise the features of your set-up and to simulate your animal's natural environment. Make sure that the wattage is appropriate for the animal and enclosure size and construction.
Use in an approved fitting of the correct type. Mount the light directly above the basking site approximately one third from one end of the tank to create a temperature gradient allowing natural thermo-regulatory behaviour.
The use of a dimming thermostat is highly recommended to prevent overheating. The use of a guard is essential to ensure that your animal cannot get burnt.