 Last Posting Dates for Xmas Orders
Click for more information.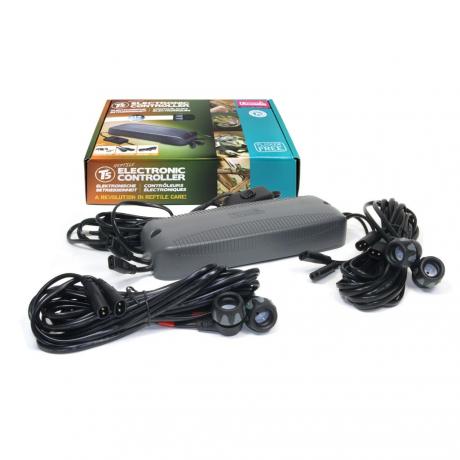 Arcadia T5 Electronic Controller
For fluorescent lamps
Controllers or starter units are required when you wiish to use fluorescent tubes in your vivarium. These are available in a wide range of different wattages to suit different tube lengths.
Lampholder can be siliconed or attached inside the vivarium
Complies with the latest European lighting standard
5 year guarantee
Compatible with Arcadia reflector range
Includes stainless steel clips
What are Arcadia T5 Electronic Controllers used for?
Controller units are required if you wish to use T5 fluorescent tubes in your enclosure.
Incorporates an electronic ballast designed for use with high output T5 lamps
Complete with Ultra Seal lampholders and Stainless Steel Clips
Long mains lead for easy mounting
Independent lamp circuits – if one lamp fails the other will continue to run
IP67 lamp holders can be used in vivariums with misting systems and in close proximity to water
IP67 controller housing can be mounted inside the vivarium if required
Mini plug and socket connector on lamp holder leads, allows the lamp holders to be detached from main unit
The Arcadia Reptile Ultraseal lamp holders offer both keeper and animal total security against dangerous water ingress. To comply with the new waterproof lighting regulations we have designed and made this system to be IP67 or waterproof. This does however mean that the lamp holders must be tight.
Do your research
Before you commit to buying any pet, please do your own independent research.