 Christmas Opening Times and Deliveries
Order by 18/12 for a guaranteed delivery before Christmas! Click for more information.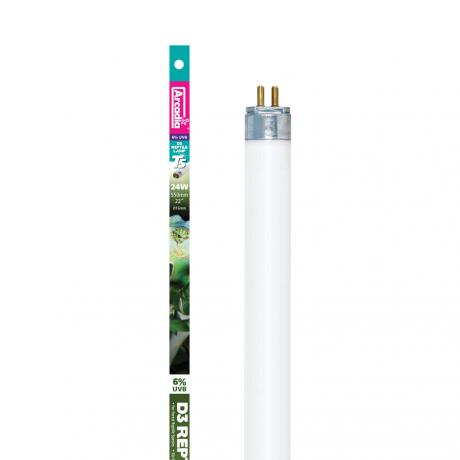 Arcadia T5 D3 Forest 6% Reptile Lamp
High Output Tropical UVB lamp
UV lighting in the reptile industry has took a huge step forward with the introduction of these superior T5 lamps. Arcadia's T5 High Output range offer both an increase in visible light and UV output compared to older T8 technology.
For Forest Species
6% UVB for the synthesis of vitamin D3
30% UVA
Produces excellent natural colours
200%+ more visible light than equivalent length D3 T8 lamp (un-reflected)
80% more UVB than equivalent length T8 lamp (un-reflected)
What are Arcadia T5 D3 High Output Forest 6% Reptile Lamps used for?
Arcadia T5 High Output lamps offer a considerable increase in both visible light and UV output compared with T8 lamps of similar length.
The Benefits of T5 Technology
Smaller diameter lamp – 5/8 of an inch (16mm) compared to 1" (26mm)
Flicker free – all T5 lamps operate on efficient, high frequency ballasts
High output T5 lamps are especially useful for captive reptiles. The extra power that these lamps provide will help a keeper to generate a good UV gradient and provide safe basking quantities of UV over a much wider and deeper area.
For best results use with an Arcadia T5 Luminaire or Electronic Controller and replace after two years or normal use. This lamp will only operate when used with equipment containing an appropriate T5 electronic ballast.