 Last Posting Dates for Xmas Orders
Click for more information.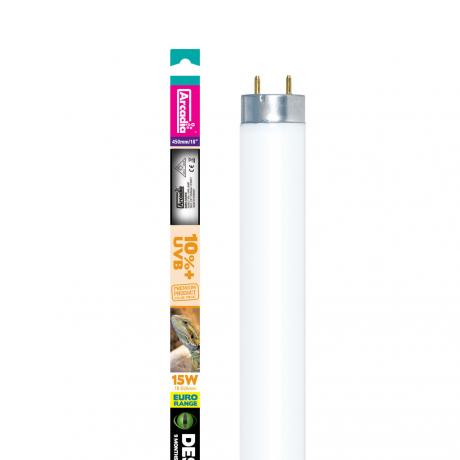 Arcadia T8 Euro Range Desert 10%
Desert UVB lamp
Affordable and quality made lamps from the leading manufacture in the UK.
10.0%+ UVB for the synthesis of vitamin D3
Long life span, provides a full 9 months of UVB
Excellent colour emissions (High CRI) for better looking more naturally coloured animals
Typically x3 more usable UVB than most lamps
Total UVC protection
Balanced UVA to UVB ratio
What are Arcadia Euro Range Desert Lamps used for?
The Arcadia Reptile Euro-Range is a New High Quality, Long-life and High Output range of T8 reptile lamps.

We have now been able due to huge improvements in technology to produce a range of T8 lamps that emit upper levels of UVA and UVB and also have a full 9 months life span.

Other than our Arcadia D3 and D3+T8 & High Output T5 range, these lamps typically last a FULL 3 MONTHS longer and emit up to 3x more UVB than competitive lamps and what's more they are made to the very highest quality in GERMANY!

The Arcadia Reptile Euro-Range simply provides more UVB than other T8 lamps for a longer period of time and all at a fraction of the cost of Un-Regulated Asian Imports.
Do your research
Before you commit to buying any pet, please do your own independent research.