Royal Python Kit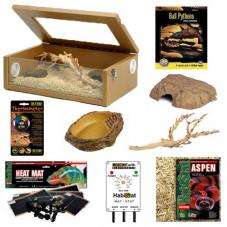 Click image for larger version
Full set up for royal pythons
Royal Pythons do make great beginner species as long as all their requirements are met and babies are not placed into a large enclosure straight away.
There are different views and opinions on how to house Royal Pythons and if they are ideal for beginners or not. We feel that these are ideal for someone wanting a slightly larger snake as long as you are aware that Royal Pythons can be fussy feeders. One main reason for Royals to stop feeding is due to stress, this can be caused by placing a baby into an enclosure which is too large. Also, temperatures need to be warm enough to allow them to digest their food, if not, they will not feed.
Plastic Royal Python Kit - Price starts from £65.71
Keeping a baby Royal python in a plastic tank it much better than placing them into a larger vivarium, also makes it cost effective. The RRP for our kit is £72.81 - our price starts from £65.71, this is a saving of £7.10.
Other items you may wish to purchase
Do Your Research: Before you commit to buying any pet, please do your own independent research.
Customers who bought the items above also bought:
Link to this page:
http://www.exotic-pets.co.uk/royal-python-kit.html