 Christmas Opening Times and Deliveries
Order by 18/12 for a guaranteed delivery before Christmas! Click for more information.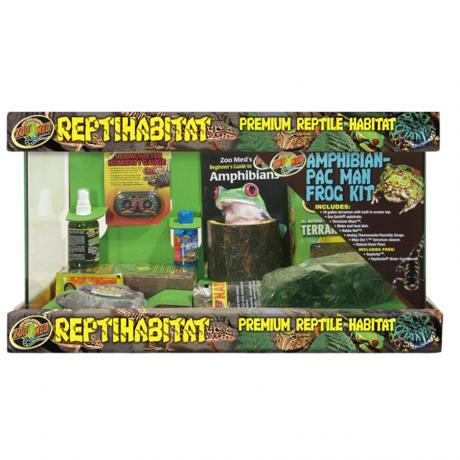 Zoo Med ReptiHabitat Amphibian Pacman Frog Kit
Affordable basic kit
This kit is aimed at newcomers to the hobby and provides most of the basic essentials for keeping your first terrestrial amphibians as pets.
Spacious glass terrarium
Stainless steel mesh lid for good ventilation
Includes décor and substrate
Beginners guide care booklet
Unfortunately, this item is temporarily out of stock. Click the button below to be notified when it is back in stock and available to purchase
Email me when this

page is updated
What's included in the Zoo Med ReptiHabitat Amphibian Pacman Frog Starter Kit?
This kit can be used to house many different species of amphibians, such as ground dwelling frogs, toads, salamanders or newts.
Included in this kit;
10 Gallon Glass Tank
ReptiSafe Water Conditioner (2.25 oz)
Eco Earth Substrate (compressed)
Natural Terrarium Moss (10 gallon)
Log Hut - medium
Combo Food and Water Dishes - small
Plastic Bush Plant (Amazonian Phyllo, small)
Dual Analog Temperature and Humidity Gauge
Beginner's Guide to Amphibians Care Booklet
ReptiVite (sample)
Wipe-Out 1 Terrarium Cleaner (4.25 oz)