Supplied ready assembled in an oak finish to suit modern home decor.
2 ventilation slots in the rear panel ensure a steady flow of air throughout the vivarium.
Mesh cover provides correct position for sun lamp.
Sliding glass doors.
Contains all the necessary equipment to set up a new vivarium.
Starter kit contains:
1 x Vivexotic Viva Leopard Gecko Vivarium
1 x Exo Terra Sun Glo Basking Lamp 25W
1 x Exo Terra Medium Glo Light
1 x Exo Terra Digital Thermometers
1 x Exo Terra Thermometer Dial
1 x Exo Terra Reptile Cave
1 x Exo Terra Heat Rock
Dimensions (mm): Width 575, Depth 375, Height 323
Additional Equipment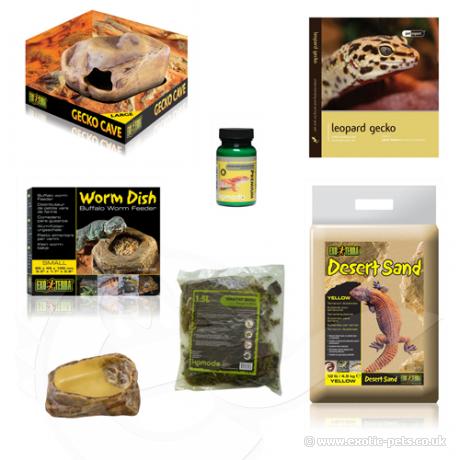 We have put together an additional starter kit package. Most of the equipment you require is already included within the Vivexotic Viv Kit, but some essential items are missing.
Items included are:
2 x Exo Terra Sand
1 x Exo Terra Gecko Cave - Large
1 x Exo Terra Worm Dish - Small
1 x Exo Terra Water Dish - Medium
1 x Komodo Habitat Moss - 1.5L
1 x Komodo Leopard Gecko Dust
1 x Pet Expert Book - Leopard Geckos
You can purchase everything you need in one simple click; you will only need to purchase the Leopard Gecko and livefoods.
Do your research
Before you commit to buying any pet, please do your own independent research.