 Last Posting Dates for Xmas Orders
Click for more information.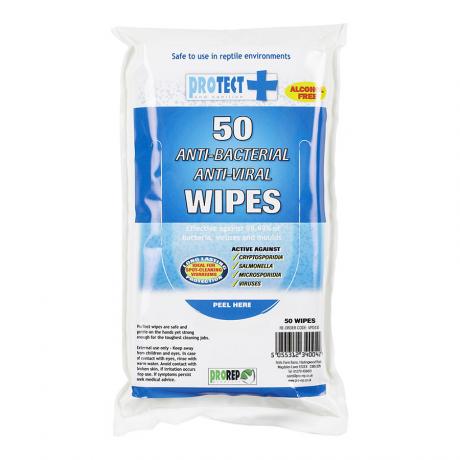 ProRep ProTect Wipes
Anti-Bacterial and Anti-Viral wipes
The ProRep ProTect Anti-Bacterial and Anti-Viral Wipes are a highly effective sanitising and cleaning product that are ideal for use on hands and surfaces in and around reptile environments.
They are alcohol free, this unique formula gives long-lasting action against bacteria (including Salmonella), viruses and cryptosporidia that can cause serious reptile infections. The specially impregnated wipes are made from a polypropylene material that is gentle on hands yet tough on dirt and stains.
Over 6 years in development they contain amongst other ingredients a natural sanitiser that is most effective and safe to use in all areas of the home including reptile environments. ProRep ProTect range of products are antibacterial, antiviral, anti spore and mould and have residual effect for up to 24 hours and are also highly effective in the control of flu viruses - including swine flu.
Do your research
Before you commit to buying any pet, please do your own independent research.