 Christmas Opening Times and Deliveries
Order by 18/12 for a guaranteed delivery before Christmas! Click for more information.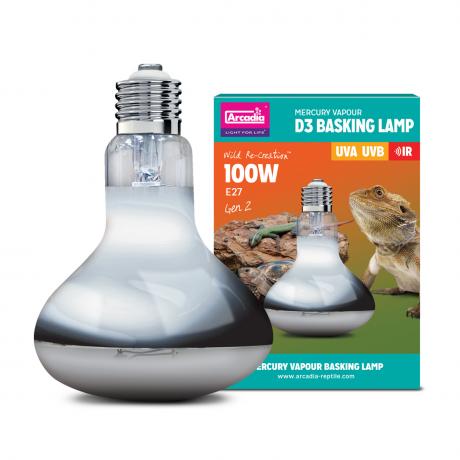 Arcadia D3 UV Basking Lamp
For heating and lighting
The Arcadia D3 UV Basking Lamp is a high performance lamp providing UVB, UVA visible light and heat from a single lamp.
These lamps have been designed for larger vivariums in which the reptile can move into and out of the basking area to regulate its temperature. These bulbs provide three very important requirements in keeping reptiles healthy; UVB, UVA and heat. Available in three wattages to help you light and heat your exotic pet's enclosure.
50 degree beam angle for wide basking area
Average life 6,000 hours
No external ballast required
1 year guarantee
Important for the health and development of reptiles
Helps to synthesize vitamin D3
Helps prevent Metabolic Bone Disease
Stimulates breeding