Scorpion Kit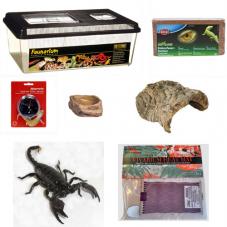 Enclosure and equipment for scorpions
This starter kit contains everything you need to set up an enclosure for most species of Scorpions.
When you have not yet owned your first scorpion, picking the right species is important. The best beginner species are the Emperor Scorpion and the Tail-less Whip Scorpions. There are many other species you can keep in the below setups, these have all be listed under each kit.
Enclosure for larger species
Species that can be kept in this sized enclosure:
Enclosure for small species
Species which would suit this sized enclosure are the following:
Do Your Research: Before you commit to buying any pet, please do your own independent research.
Customers who bought the items above also bought:
Link to this page:
http://www.exotic-pets.co.uk/scorpion-kit.html