Red Trapdoor Spider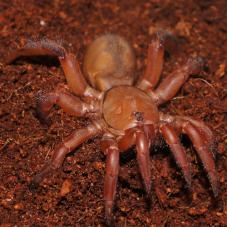 Ctenolophus sp.
These are a stunning red Trapdoor spider from Tanzania, they are said to have a very strong venom. Be warned they are fast and aggressive like all Trapdoor spiders and they are not really suitable for beginners.
We are currently working on this care sheet. If you have any experience with this species, please contact us with details.
Do Your Research: Before you commit to buying any pet, please do your own independent research.
Customers who bought the items above also bought:
Link to this page:
http://www.exotic-pets.co.uk/red-trapdoor-spider.html