Common Musk Turtle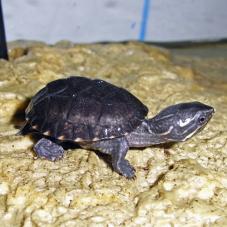 Click image for larger version
Sternptherus ororatus
The Common Musk Turtle is an ideal beginner species due to their adult size and ease of care. They are also known as Stinkpot Turtles due to a smelly liquid they produce from musk glands when frightened.
What does the Common Musk Turtle look like?
The Common Musk Turtle is a small species reaching an adult length of 7.5-12.5cm (3-5 inch). Males can be determined by the longer tail and overall larger size. Their shell colouration can be black, grey or brown. They have a pair of yellow or green strip running from the tip of their nose to the neck. The jaw is powerful and can easily crush hard snail shells.
As the name suggests, these turtle can emit a smelly liquid from its musk glands when frightened. They are also known as Stinkpot Turtles.
Where is the Common Musk Turtle from?
The Common Musk Turtles range is from south eastern Canada down through the south eastern and south central American. They are mainly aquatic turtle, rarely found basking.
How do you keep Common Musk Turtles?
Due to their small size, one adult can be kept in a minimum 24x18x12 inch glass tank, a pair in a 36x18x12 inch, the bigger the better. Common Musk Turtle are mainly aquatic, therefore a water depth of 10 inch or more should be given.
The water temperature should be maintained at around 26.6C (80F) for hatchling and between 21-24C (70-75F) for adults. A basking area of 31-33C (88-92F) must be provided.
The Common Musk Turtle is classed as being nocturnal, they stay hidden during daylight hours and become more active towards the evening. Although some say they do not require UV lighting, it is best to provide a 2% UV light. This helps with aquarium plant growth and will also benefit the turtles.
You should place bogwood, rocks and other objects in the tank for the Common Musk Turtle to investigate and hide beneath during the day. A filter should be used to help maintain the water condition. Ensure this is not set on a high current, Musk Turtles are from slow moving waters.
It is best to feed your Common Musk Turtle commercial sinking pellets, these have all the vitamins they require. They will also take frozen bloodworm, small insects, chopped earthworms, aquatic snails and aquatic vegetation, most will nibble at Duckweed, Water Lettuce and Water Hyacinth. Feed youngsters everyday until six months of age when feeding can be carried out every other day.
When provided a water change, ensure the water has been treated with a de-chlorinated solution, this removed any harmful chemicals.
Do Your Research: Before you commit to buying any pet, please do your own independent research.
Customers who bought the items above also bought:
Link to this page:
http://www.exotic-pets.co.uk/common-musk-turtle.html