This non-toxic mesh keeps the underlying draining substrate apart from any decorative substrate you place in your terrarium. Use in combination with the bio drain terrarium substrate to allow proper water drainage. This mesh is ideal to help create a biological filteration system in the terrarium. This cleaner terrarium water can then be circulated in waterfalls or the monsoon rain system.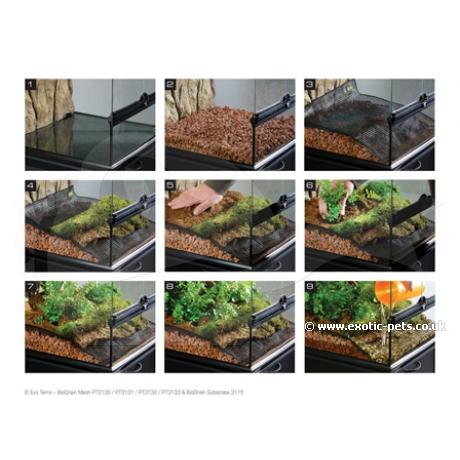 Wash the Bio Drain Terrarium Draining Substrate thoroughly and spread it evenly in the terrarium.
Create a water part by removing substrate in the desired location, then cover the substrate entirely with the Bio Drain Terrarium Draining Mesh.
Add a biological substrate like Plantation Soil on the terrestrial (land) area.
Add an aquatic substrate like Turtle Pebbles or Riverbed Sand to the water part and add water.