Praying Mantids soon to be back in stock!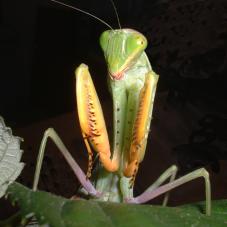 Wednesday, 1st March 2006
Many of our customers have been asking when we will have some Praying Mantids back in stock. We have nymphs and Ootheca due in March.
We are expecting a few species of Praying Mantis nymphs from week commencing 06.03.06. We are looking at having more towards the end of March, but these will be limited and on a first come, first served basis. We have listed the species available, be quick, as they won't last long!
When not purchase your new Praying Mantis with a Starter Kit ?
Also due in the middle of March is Praying Mantis Oothecas. These will be available in larger numbers, but some species do get snapped up quick. Orders are being taken for these too, but we will not be able to dispatch until mid/late March.
Exotic Pets are also going to start breeding our own Praying Mantids again. Starting with a few species such as the African Mantis and Ghost Mantis. We are aiming to provide these two species this summer with others soon to follow.
Keywords: praying mantis, preying mantis, praying mantids. preying mantids, oothecas, ootheca, egg case, egg sca, nymphs, nymph,