Veiled Chameleons Hatching
Sunday, 30th September 2007
Our first batch of Veiled Chameleon have just started to hatch and will be ready in four weeks.
The Veiled Chameleon makes an excellent beginner species, they are hardy and grow to a nice size medium size. This photo shows a sub/adult Chameleon just about to eat a locust.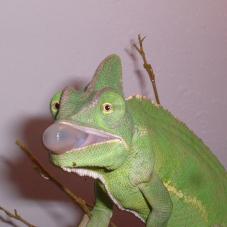 Our babies will be ready in approx four weeks, at this age they will be growing fast and feeding well on 2nd/3rd brown crickets.
Keywords: veiled chameleons, yeman chameleon, chameleon, chameleons,