Limited amount of Turkistan Roaches back in-stock
Tuesday, 18th September 2007
We've had a lot of people ask for Turkistan Roaches - both as a feeder cockroach and stater culture. Limited amount of back-in-stock!
The Turkistan Cockroaches have been surprisingly popular with our customers, it's been good to hear that many of you have successfully started your own cultures with our Turkistan Starter Culture.
We have a limited amount of Turkistan Roaches back in-stock; most of which are around the same age/size - order now to avoid disappointment.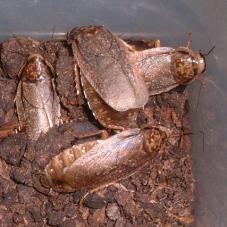 Another popular cockroach has been the soft shelled Lobster Roaches, we're nearly sold out these too; so if you want to try them as a tasty treat for your pet, start your own culture (or both) - buy a Lobster Roach Starter Culture now!
Keywords: turkistan roaches, turkistan cockroaches,