Wooden Terrarium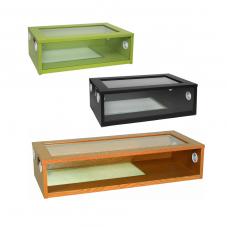 Click image for larger version
Reptile enclosure
A smart looking wooden terrarium with a front glass viewing panel with a top hinged lid.
The Wooden Terrariums are ideal for nocturnal species such as Leopard Geckos, Helmeted Geckos, Corn Snakes; you can even keep desert dwelling species of insects in there such as Scorpions and Camel Spiders.
Available in three sizes and ready built.
Do Your Research: Before you commit to buying any pet, please do your own independent research.
Customers who bought the items above also bought:
Link to this page:
http://www.exotic-pets.co.uk/wooden-terrarium.html