Nelsons Milk Snake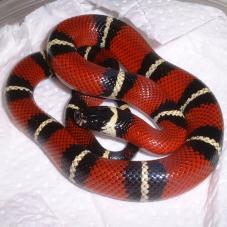 Click image for larger version
Lampropeltis triangulum nelsoni
Nelson's Milk Snakes have thin black and white rings with wide red bands.
We are currently working on this care sheet. If you have any experience with this species, please contact us with details.
Do Your Research: Before you commit to buying any pet, please do your own independent research.
Customers who bought the items above also bought:
Link to this page:
http://www.exotic-pets.co.uk/nelsons-milk-snake.html