Locusts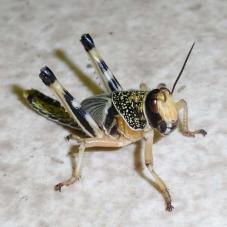 Click image for larger version
Shistocerca gregaria
Locusts are generally used as an alternative food for slower moving lizards. We offer a full range of different sized locusts including pre-packs, super-packs and bulk.
Ensuring your exotic pet has a vaired diet is extremely important, Locusts are a great food source due to their high protein levels. They are a great alternative to crickets as they are a slower moving species. Below we have listed their approx sizes and quantities as a guide.
Locust Pre-Pack (Small) 10-12mm - Approximate Qty - 20
Locust Pre-Pack (Medium) 12-20mm - Approximate Qty - 15
Locust Pre-Pack (Large) 20-35mm - Approximate Qty - 10
Locust Pre-Pack (Extra Large) 35-50mm - Approximate Qty - 8
Locust Pre-Pack (Adult) 60-80mm - Approximate Qty - 6
If a Locust Pre-pack is not enough for you then why not try one of our new Super-Packs. These contain approximately twice as many insects as a standard Pre-Pack.
We also offer bulk bags/tubs in quantities of 50 & 100.
Don't forget with all live foods you need to keep them well fed and healthy. A healthy food source means healthy animals.
Place your order by Tuesday 10am to ensure a fresh live food delivery on Thursday/Friday.
Do Your Research: Before you commit to buying any pet, please do your own independent research.
Customers who bought the items above also bought:
Link to this page:
http://www.exotic-pets.co.uk/locusts.html