Komodo Thermomer and Humidty Guages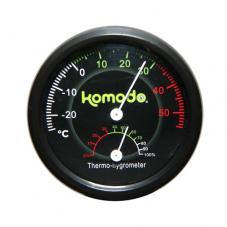 Click image for larger version
Current readings in your enclosure
Komodo range of habitat thermometer and humidity guages.
It is essential to place a thermometer dial or strip at both ends of the enclosure. This will allow you to ensure that your exotic pets enclosure has the correct temperature at both warm and cool end. Humidity dials are also important, Amphibians should be kept moist otherwise this could be fatal.
Do Your Research: Before you commit to buying any pet, please do your own independent research.
Customers who bought the items above also bought:
Link to this page:
http://www.exotic-pets.co.uk/komodo-thermomer-and-humidty-guages.html