Komodo Basic Millipede Kit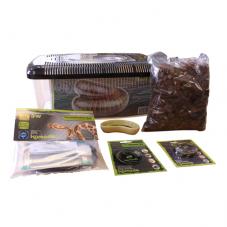 Click image for larger version
Complete millipede kit
Millipedes are an easy invert to keep as long as their basic requirements are met. Within the Komodo Basic Kits, there is one for Millipedes and other related species.
Within this Komodo you have everything to get started in keeping your first pet Millipede. This kit contains:
Plastic tank
Komodo water/feed bowl
Komodo cypress terrain
Instructions
Other items you may wish to purchase
Do Your Research: Before you commit to buying any pet, please do your own independent research.
Customers who bought the items above also bought:
Link to this page:
http://www.exotic-pets.co.uk/komodo-basic-millipede-kit.html