Green Tree Python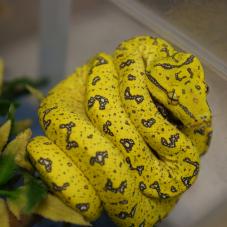 Click image for larger version
Morelia viridis
These grow to approx. 1.8m in length and turn to green when adult. These snakes are for reptile keepers with experience in keeping large snakes.
We are currently working on this care sheet. If you have any experience with this species, please contact us with details.
Write a care sheet for this species and earn Pet Points!
Do Your Research: Before you commit to buying any pet, please do your own independent research.
Customers who bought the items above also bought:
Link to this page:
http://www.exotic-pets.co.uk/green-tree-pythom.html