Exo Terra Sun Neodymium Basking Lamp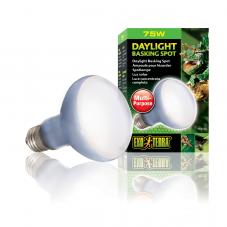 Click image for larger version
Daylight basking spot lamp
Exo Terra Day Glo Basking Bulbs with broad spectrum daylight spot lamp to create basking area in terrariums.
A broad spectrum daylight spot lamp with a Neodymium sleeve. The spectrum is ideal for plant's photosynthesis and the UVA (ultraviolet A) light contributes to reptiles' physiological well being. The spot allows one to direct the heat and light in a certain direction to create basking sites in the terrarium.
Broad-spectrum daylight spot lamp for terrariums
Creates a basking area for thermoregulation
Increases ambient air temperature
Stimulates breeding behavior through UVA rays
Can be combined with Night Glo or Heat Glo for a 24 hours cycle
Do Your Research: Before you commit to buying any pet, please do your own independent research.
Customers who bought the items above also bought:
Link to this page:
http://www.exotic-pets.co.uk/exo-terra-sun-neodymium-basking-lamp.html