Chilean Desert Scorpion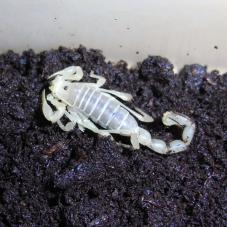 Click image for larger version
Brachistosternus species
The Chilean Desert Scorpion is a light yellow colour that reaches an adult size of around 3 to 4cm. They tend to be very alert and are ready to sting if disturbed.
We are currently working on this care sheet. If you have any experience with this species, please contact us with details.
Do Your Research: Before you commit to buying any pet, please do your own independent research.
Customers who bought the items above also bought:
Link to this page:
http://www.exotic-pets.co.uk/chilean-desert-scorpion.html