Arcadia UV Reflector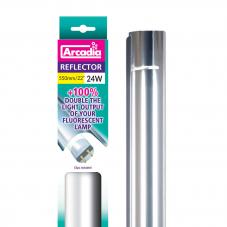 Click image for larger version
Reflector for UV lighting
The Arcadia Reflectors increase the efficiency of the UV tubes in reptile enclosures.
When a fluorescent tube is ignited, light is given off evenly in every direction, much of which is directed upwards into the lid of the aquarium.
If a reflector is mounted behind the tube, this stray light is not wasted, but redirected back to where it is required - the aquarium, so that the efficiency of the tube is maximised.
Reflector can be angled to direct the light into the aquarium or terrarium
Maximises the light in your tank
Made from a sturdy aluminium design
Available in all lengths from 6W to the 58W
Optimised reflector models for T8 (1") and T5 (5/8") lamps
Resistant to salt water corrosion
Do Your Research: Before you commit to buying any pet, please do your own independent research.
Customers who bought the items above also bought:
Link to this page:
http://www.exotic-pets.co.uk/arcadia-uv-reflector.html