Alpine Newt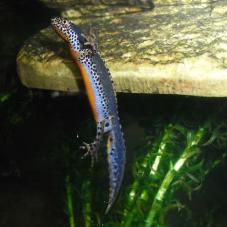 Triturus alpestris alpestris
The Alpine Newt is one of the larger species within this family reaching a length of 9-12cm, males are smaller. Females are grey to brown colour where as males are stunning with a black and yellow crest and blue colouration along the body and tail.
We are currently working on this care sheet. If you have any experience with this species, please contact us with details.
Do Your Research: Before you commit to buying any pet, please do your own independent research.
Customers who bought the items above also bought:
Link to this page:
http://www.exotic-pets.co.uk/alpine-newt.html